Networking Event at ASHI 2022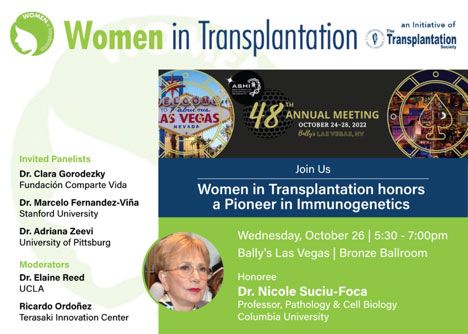 Women in Transplantation is delighted to announce an in-person Networking Event at the American Society for Histocompatability and Immunogenetics (ASHI) Meeting. During this event, we will honor the career of a pioneer in immunogenetics, Dr. Nicole Suciu-Foca.
ASHI will take place in Las Vegas, NV, USA on 24-28 October 2022. WIT members who are registered for and attending ASHI have the option to attend this Networking Event as part of their registration. Please follow this link to register for ASHI
https://2022.ashi-hla.org
---
Panel Discussion and Networking Event at the 2022 Banff-CST Joint Meeting

Join us for the Women in Transplant Panel Discussion and Networking Event on Thursday, September 22, 2022, 6-7PM MT.
Keynote Speaker, Dr. Heather Ross will provide insight in her fascinating and distinguished career to date. This will be followed by a panel discussion on how to provide support and guidance to future generations of women transplant professionals. This is an inclusive event and we welcome all participants.

Heather Ross
Professor of Medicine
University of Toronto

Tom Blydt-Hansen
Director, Multi Organ Transplant Program and Senior Scientist
BCCH Research Institute

Chaya Shwaartz
Assistant Professor, Division of General Surgery, UHN and Department of Surgery
University of Toronto

Mélanie Dieudé
Professeur Associée, Faculty of Medicine, Microbiology, Infectiology and Immunology Department
Université de Montréal
---
Women's Barrier to Transplant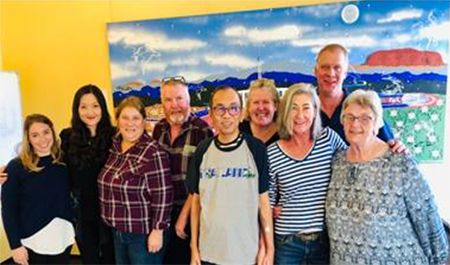 In partnership with the Women in Transplantation Advocacy Pillar, we invite you to share your perspectives and experiences as a female kidney recipient.
This is Nicole (back center) during a research focus group
Who can take part?
• Women over 18 years of age
What will be involved in participating?
• Global interviews are taking place
• Held at a time that suits you
• Face-to-face via telephone or video conference
What will be asked?
How accessible your treatment has been and some of the hurdles you may have faced living with your transplanted kidney.
If you are interested in participating, please contact:
Nicole Scholes-Robertson
Research Fellow and Transplant recipient
Email: This email address is being protected from spambots. You need JavaScript enabled to view it.
We hope this project will help improve the lives and experiences of women with kidney transplants. Your insights will help us create health literacy tailored to female recipients, as well as expand future studies to all organ recipients.
---
CALL FOR SUPPORT!
International Symposium on "Sex and Gender in Organ Transplantation: The Female Perspective"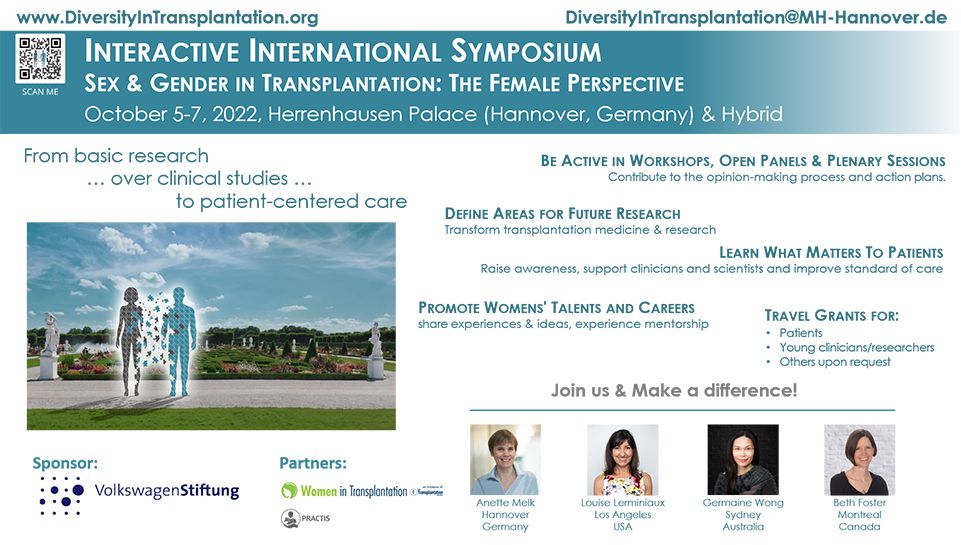 - from Annette Melk, Organizing Committee:
As you know, Beth, Germaine, Louise and I are organizing a symposium for patients, clinicians and researchers on "Sex and Gender in Transplantation: The Female Perspective". The symposium will be a hybrid event with the in-person meeting taking place in Hannover from October 5th to 7th 2022. This is to kindly ask for your support via either personal or virtual attendance. Please see below for details.
On behalf of the organizing committee:
Anette Melk, Hannover; Bethany J. Foster, Montreal; Germaine Wong, Sydney; Louise Lerminiaux, Los Angeles
More Details
Due to some changes in the program, we still have slots for faculty and senior clinicians/scientists available. We will be able to cover travel costs.
In addition, you are very welcome to let especially younger colleagues and dedicated patients know about the possibility to participate in this event. For these two groups, we managed to get additional travel grants. Moreover, we will provide a mentoring program for young clinicians and researchers onsite.
More information is provided on our website: https://diversity-in-transplantation.org/
Could you please let Katie Tait, WIT Manager This email address is being protected from spambots. You need JavaScript enabled to view it., or myself, This email address is being protected from spambots. You need JavaScript enabled to view it., know whether and which sessions you plan to attend.
The following time schedule gives you an overview of the time zones in relation to the program (green boxes are times, during which attendance should be possible within your time zone; * depending on the number of patients who register, we may have a parallel panel for patients on Oct. 5th and 6th):



---
Women in Transplantation & Asian Society of Transplantation - Fellowship Grant
Women in Transplantation is delighted to announce that they will co-sponsor a research fellowship grant with the Asian Society of Transplantation.
The Asian Society of Transplantation will fund a research project that contributes to our understanding of the impact of sex and/or gender in transplantation using "Asian Society Transplant Registry-Women in transplantation-kidney transplantation (ASTREG-WIT-KT) data."
ASTREG-WIT-KT is an online registry for data collection and analysis of gender disparity across Asia-Pacific countries. It was borne out of WIT's Pillar 2, which focuses on sex and gender research as it related to solid organ transplantation.
Any epidemiologic, clinical studies using this data will be considered for this grant.
---
2022-2024 WIT Fellowship Awards
Women in Transplantation, in collaboration with One Lambda Thermo Fisher and Sanofi, is delighted to announce the winners of the WIT Fellowship Award 2022-2024!

One Lambda Thermo Fisher Fellowship Award
Dr. Emily Leven
Mount Sinai, New York City

Sanofi Fellowship Award
Dr. Brenda Rosales
University of Sydney, Australia